Main information:
Things to know about your visit
Information for visitors with reduced mobility and for the visually or hearing impaired
Here you will find some information to prepare your visit to Cadolzburg Castle.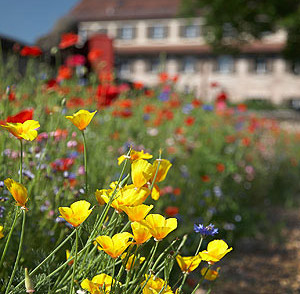 Photography and filming
Taking pictures of the outside of the palaces for private use does not require a permit. Photo and film shootings taken for further use as well as the flying of drones / multicopters are basically subject to approval and charges. Here you will find information on photography permits / film permits.
Wi-Fi
Free Wi-Fi is available in large areas of the main castle and the bailey.
Dogs
Dogs and other pets are not allowed on the grounds of Cadolzburg Castle (museum, outer ward, garden).
Other
The museum at Cadolzburg Castle is heated, so visitors should, also in winter, be comfortable during their stay.
From March to October - weather permitting - drinks and small meals are available at the "Vesperhäusla" kiosk in the Vorburg schoolhouse garden. Further information on gastronomic facilities in Cadolzburg you can find on the Markt Cadolzburg website.