Main information:
General information for visitors
Due to the conversion of Cadolzburg Castle into a museum, the building is currently inaccessible for visitors. The new exhibition "A castle and its lords. The Cadolzburg experience" will open in the castle on 23 June 2017.
Information for visitors with reduced mobility
Here you will find some information to prepare your visit to Cadolzburg Castle.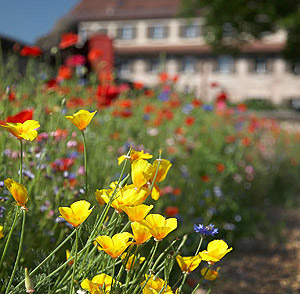 Photography and filming
Taking pictures of the outside of the palaces for private use does not require a permit. Photo and film shootings taken for further use as well as the flying of drones / multicopters are basically subject to approval and charges. Here you will find information on photography permits / film permits.
Dogs
Dogs are not allowed on the grounds of Cadolzburg Castle (museum, outer ward, garden).
| top |